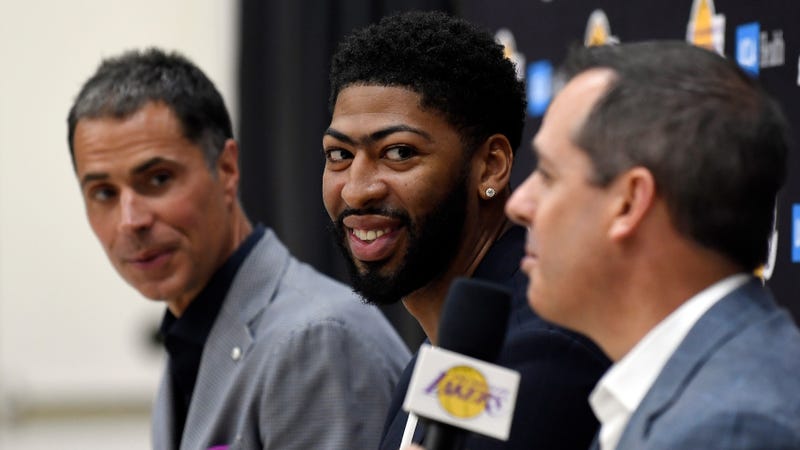 Hey, remember back in mid-July, when the Lakers traded the moon and stars for one of the most talented young players in the NBA? Remember that? Remember when the team and the player did their big introductory press conference? Remember during that press conference, when that player—who is listed by the NBA as standing 6-foot-10, and who has a 7-foot-6 wingspan, and whose tremendous defensive value is derived overwhelmingly from his world-class ability to close off the paint and discourage, alter, and block shots at the rim—looked over at his new head coach and said, "If it comes down to it, Coach, and you need me to play the five, I'll play the five"?
I bring that up for a very specific reason:
It was bad enough when the Lakers were making eyes at Dwight Howard as a replacement for the physically ruined DeMarcus Cousins. Howard is a greatly diminished goof with a long track record of irritating his teammates and a more recent track record of being too broken down to take the floor for an NBA team, but at least he looks impressive in an NBA uniform. Noah hasn't been a good or relevant NBA player in at least five years. Speights peaked as an NBA player at "useful," and that was four years ago, and it was in a cushy bench role on the most star-loaded team in modern NBA history. Marcin Gortat was actively bad and easily replaceable last season, in Los Angeles, in the same damn building where the Lakers play.
These are not credible rotation options for a team with legitimate championship aspirations. Most irritatingly, they are being considered not because the Lakers desperately need some hulking intimidator to bang on the block with, like, Clint Capela, but because the excellent natural center