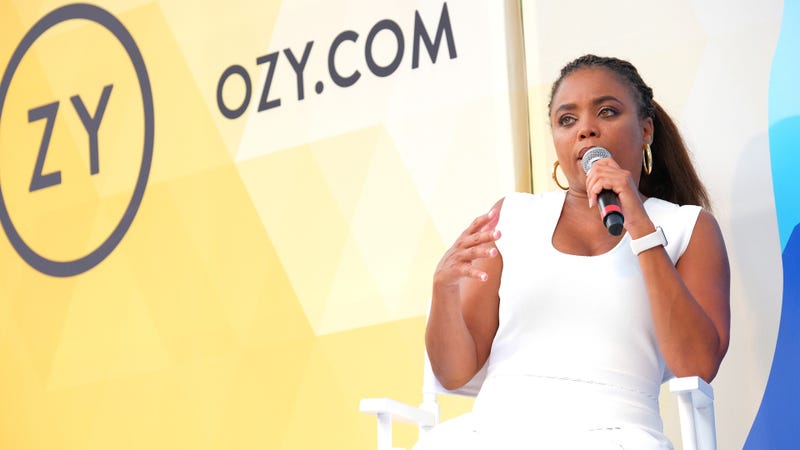 In a Monday article in the Hollywood Reporter by James Andrew Miller, a man who at all times knows what's going on at ESPN precisely an hour after anyone cares, former ESPN personality Jemele Hill officially announced her plans for the future. Seeing as the chickenshits who run her old shop have been made afraid of anything that could be characterized with the dreaded P-word—political, here defined as anything that isn't reflexively white and male in outlook—by disingenuous dum-dums trying to make a buck by pretending ESPN becomes more and more like Pravda every time it hires a black person to call highlights, it was only natural that Hill, our racist government's least favorite SportsCenter anchor, would decide that her talents would be better served elsewhere.
The highest-profile of Hill's new gigs is her job as a staff writer for the Atlantic, a fancy publication that hosts thinkfluencer events and runs stories about people who want to have sex with guns. As the Atlantic's editor-in-chief, Jeffrey Goldberg, put it, Hill's written work there is expected to be located at "the intersection of sports and race and politics." This is a fairly logical move; after all, before she was the celebrated talking head/tweeter she's primarily known as today, Hill was a real-deal journalist.
It's true that Hill's star only really began to shine as bright as it is now once she stepped away from the keyboard and into the camera's (and Twitter's) line of sight. In this moment of social and political turmoil, though, it makes a lot of sense for a magazine with the trappings of prestige and with-it-ness, but without much work worthy of those trappings, to hire a person who clearly has her finger on the pulse of what's going on and bet that it'll all come together on the page. (Aside from that rationale, with the Atlantic constantly stepping on rakes and getting smashed in the face with high-profile blunders in matters of race, gender, and representation, signing a name as big as Hill's could do a lot to help the magazine seem, or perhaps even be, more vital and less sclerotic than it is. Two birds, one stone.)
Still, one aspect of Hill's career plans as revealed in the Hollywood Reporter article was icky enough to bring the whole affair into question. The offending paragraphs don't appear until close to the bottom of THR's article:
The brave new world she has just begun to create for herself is shaping up to be multi-platform, and need we say, diverse. Hill is captivated by her development of a sports and politics show for LeBron James and Maverick Carter. Imagine the happy challenge of going from a show (SC6) where she had to worry about saying too much to a show where there will be endless enthusiasm, and a need, for her to say more. Sounds like a Jemelian dream. The show doesn't have a distributor yet, but Hill is no doubt hoping that if anyone has the clout to park this show someplace that can rival the ESPN platform, it will be LeBron James.

Hill has also started a production company with her good friend Kelley Carter and is preparing to sell a half-hour scripted series in collaboration with Gabrielle Union at Sony loosely based on her friendship of over 20 years with Carter.
So … Hill is supposed to be covering the intersection of sports and race and politics for the Atlantic, while in her spare time she's pitching TV ideas to the biggest figure at that exact intersection? And she's also partnering with actress Gabrielle Union, who's married to one of James's best friends and fellow outspoken athlete, Dwyane Wade? The conflict of interest here is blinding, and doesn't seem to be the kind of thing that can be hand-waved away with a simple disclosure note at the bottom of an article.
Hopefully it's obvious why it would be bad for a journalist covering a specific beat to have financial ties to one of most powerful, most important, and richest figures on that beat; the work is necessarily compromised by the business relationship. (It would be even if Hill were secretly a robot and could completely partition the part of her brain that comes up with sports takes from the part that comes up with pitches for James's production company.) The Atlantic cannot publish Hill's articles about James, or James's rivals for the position of the most powerful figure in sports, or James-adjacent issues—i.e. much or even most of what's worth writing about on the beat Goldberg describes—and expect readers to trust that the work has the distance and skepticism necessary to produce valuable coverage.
The relationship here further has to be read in light of the fact that at this point in his career, James is in many ways less an athlete than an aspiring mogul with a sideline in basketball, and his various brand initiatives are mainly concerned with positioning him just so. (It's not like he joined the Lakers for their winning pr