2:25 PM PT — LeBron was just asked about the backlash he's received since his comments on China … saying he feels the league is in a "tough situation."
"I think when an issue comes up, if you feel passionate about it or you feel like there's something you wanna talk about, then so be it. I also don't think that every issue should be everybody's problem as well."
LBJ continued … "There's multiple things that we haven't talked about that happen in our own country that we don't bring up" mentioning he's focused on helping the children at his "I Promise" School in Akron and helping others like him out of the inner city.
"There's issues all over the world. The best thing we can do is, if you feel passionate about it, talk about it. If you're not — if you don't have a lot of knowledge about it or you don't quite understand it — I don't think you should talk about it because it just puts you in a tough position."
12:18 PM PT — Michael Rapaport just DESTROYED LeBron on "TMZ Live" — saying he's the "fakest" guy in the NBA. He also blasts Bron's team, including Maverick Carter, saying they're all "yes men" and "flunkies."
Rapaport also says people should STOP comparing Bron to Muhammad Ali — explaining, "This guy couldn't hold Muhammad Ali's jockstrap."
7:21 AM PT — As expected, protesters in Hong Kong are FURIOUS at LeBron James for speaking out against Daryl Morey … and now they're burning Bron's jersey in the streets.
Around 200 people were reportedly demonstrating at the Southorn Playground in Hong Kong … chanting praises for Daryl Morey while trashing James.
In fact, the Associated Press says the chants about LeBron included language that is "not printable."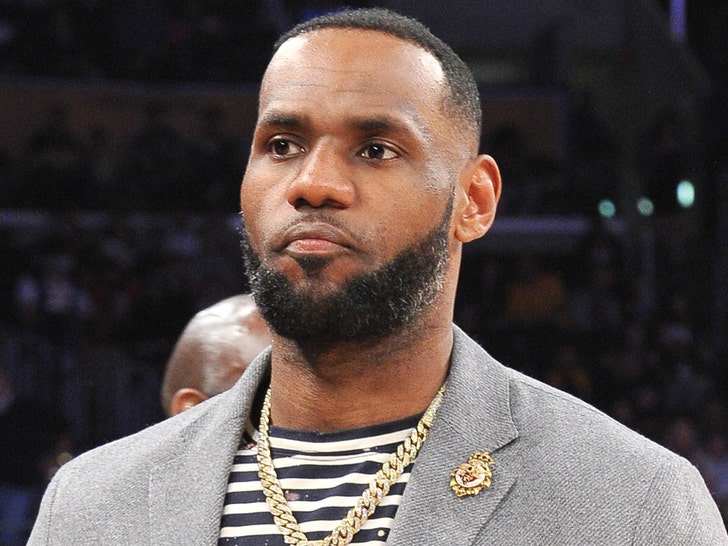 Getty
LeBron James is FINALLY talking about the Daryl Morey tweet that sparked an international incident … saying the Rockets GM simply "wasn't educated" about China before he posted his pro-Hong Kong tweet.
"I think that's another situation that should stay behind closed doors," LeBron told the media.
Remember, LeBron and the Lakers were in Shanghai to play the Brooklyn Nets in an exhibition game last week when the backlash over the tweet began.
Chinese officials essentially blackballed the Houston Rockets immediately — taking down signage, pulling merchandise and blocking TV networks from airing games.
But, now LeBron is back in the U.S. … and he's calling out Morey for what LeBron is describing as a selfish tweet.
"We all talk about this freedom of speech. Yes, we all do have freedom of speech, but at times there are ramifications for the negative that can happen when you're not thinking about others and you're only thinking about yourself," LeBron said.
!-->!--#cb-73df80deb998a3a3991b86a11af36fbb-->
!--#cb-4c875048edb4c66914f0827329f75787-->