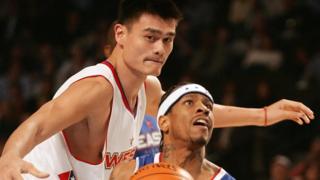 Last Sunday night, Daryl Morey, the General Manager of the Houston Rockets, sat in his hotel room in Tokyo, where the Rockets were playing two pre-season games against the current NBA champions, the Toronto Raptors.
Mr Morey – in a move that would reverberate around the sporting world and beyond – then fired off a tweet expressing support for the protestors in Hong Kong who have been taking to the streets for the past four months.
While he hasn't explicitly admitted as much, it's safe to say he now regrets hitting that send button.
Close to a week later, the fallout from that single, quickly-deleted tweet – which included the words "Fight for freedom, stand with Hong Kong" – is still dominating the news cycle.
We've seen posts from Rockets owner Tilman Fertitta, an explanation of sorts from Mr Morey, and not one, but two statements on the matter by the National Basketball Association (NBA), none of which appears to have appeased Chinese fans and sponsors, who were furious that an outsider was stirring up an issue many there regard as non-negotiable.
Freedom of speech, they argued, doesn't apply in certain areas and it wasn't Mr Morey's place to comment in the first place.
To top it all off, the league's handling of the situation simultaneously managed to spark a backlash back at home, with US fans and politicians alike calling out the league for pandering too much to China.
Hong Kong protests – key facts
US basketball is a big deal in China
The timing could not have been worse: the LA Lakers and the Brooklyn Nets are in China right now to play two pre-season games, but national broadcaster CCTV refused to broadcast them. Once the state-run channel had made that decision, online streaming partner Tencent had little choice but to follow suit.
Admittedly, preseason games don't quite get pulses racing in the way that regular season games do, but this has become something of a tradition in China, where basketball rivals football a