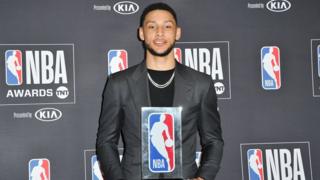 An Australian casino has denied an apparent assertion by NBA player Ben Simmons that he was denied entry to the venue due to racial discrimination.
The Philadelphia 76ers star posted a video online on Monday of himself and friends at Melbourne's Crown Casino.
In the now-deleted video, Simmons appears to say that he and his black friends were asked for identification whereas his white friend was not.
The casino said it "strenuously rejects" any claims of discrimination.
In