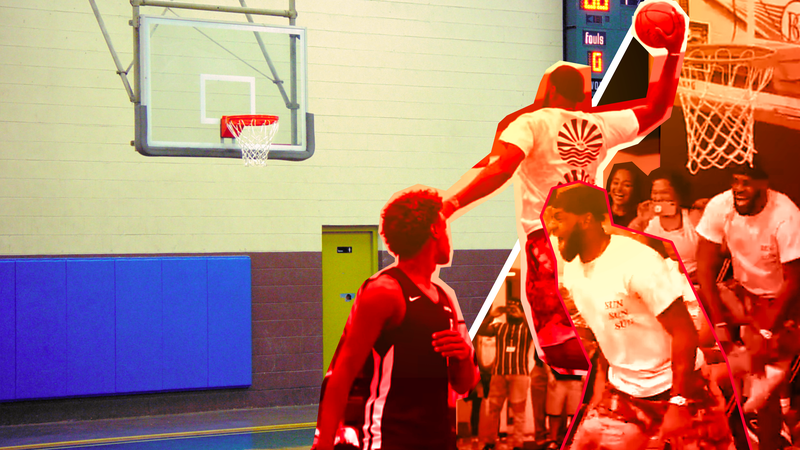 At an AAU tournament when I was 16, just minutes before my third game of the day, I ate three slices of pizza and drank a sugar-free Red Bull. I nearly threw up twice during the game, but I got shots up and hit six threes. I think we won that game, but I don't remember. I don't remember anyone even looking at the scoreboard the whole game.
AAU is not a forum for competitive basketball. Games are played, shit gets talked, coaches check their phones during timeouts and sometimes during play, scouts are hopefully impressed, and nobody pays attention to the score. The amount of charges taken and hard fouls given out per game are directly proportional to the number of Division 1 assistant coaches in the stands. Decorum doesn't exist. AAU basketball is playground ball with a coat of paint, a Porsche with a go-kart engine in it.
This weekend, LeBron James made people not currently playing, parenting, coaching, or reffing AAU ball think about AAU ball for the first time in years. This happened because he was rather exuberant in his celebrations both of his son Bronny dunking during games and of Bronny's teammates' accomplishments; James even took part in layup lines. To hear certain third-tier sports shouters tell it, all this giddy dad behavior was a distraction from the game, or another sign of LeBron needing to be the center of attention, or performative fatherhood, or whatever other psychosocial projections the critics could muster.
This foolishness is understandable. These are prideful men, playing the sport of warriors (tweeting online, wheezing on television), and as such couldn't possibly grasp the world of AAU basketball, which to reiterate is a world in which much cooler people show off for their friends and the girls in the stands and no one cares about the scoreboard or random parents' shoes on the court.
Some of the finest memories I have on a basketball court took place while I was on the losing end of absolute throttlings. Bill Walker, future Kansas State University star and Boston Celtics reserve, once dunked on me and our center off an inbounds pass. By the time I'd realized the ball was even inbounded, Walker had gathered and was destroying the goddamned rim. O.J. Mayo scored 50 on us without taking a dribble inside the three-point line. We