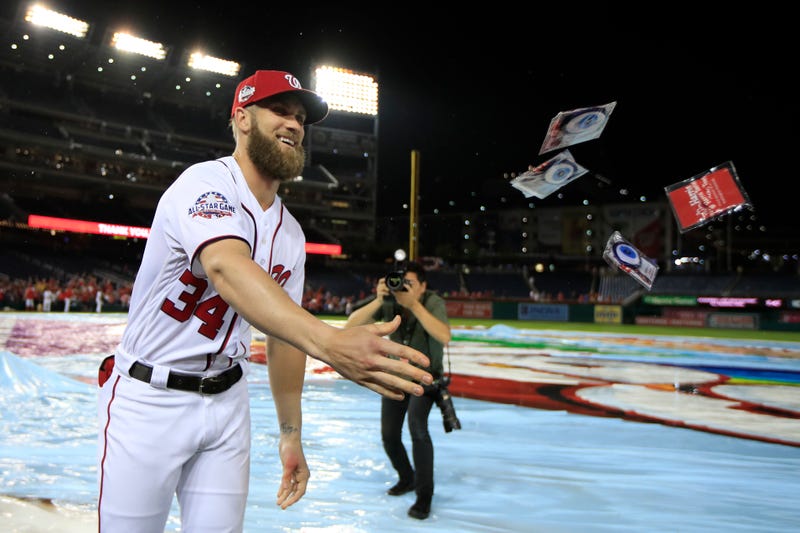 Bryce Harper has been "about to sign" with the Philadelphia Phillies for two weeks now, including one weekend when Andy MacPhail, the team's chief baseball brain, said the Phillies were good with what they had and weren't looking to add much in firepower or the payroll to fuel it.
And the rumors, which always seem to change, do not abate. The semi-latest, in which owner John Middleton flew to Las Vegas for a quick meet-and-greet, quickly turned to one in which he wasn't leaving without either Harper's signature or Scott Boras's brains on the paper.
Okay, I stole the last part from The Godfather.
Either way, the next day, noted hyperactive snoop-and-tell artist Jon Heyman suggested there were still multiple teams involved in Harper and that the deal that might be consummated by Monday would now probably drag into Tuesday and maybe even beyond, if the rumor that the Los Angeles Dodgers sent a delegation to Las Vegas to re-introduce themselves to Harper is to be believed. A nation that lost interest in his future 10 days ago must endure more stories that both move him closer and further away from a contract at the same time.
In the meantime, the NBA has mastered the art of keeping people riveted to the month-by-year sagas of Anthony Davis and Kevin Durant as it did those of Kawhi Leonard and LeBron James and Paul George even though their contract decisions take epochs by comparison. People can't seem to get enough of drool-talking about Kyrie Irving's dinner dates, but Harper's future not only doesn't move the needle, it doesn't even cause the motion sensors that illuminate the room to activate. How can this be, and should baseball commissioner Rob (The Face Of The Man Who Hates Fun) Manfred be more concerned with Harper fatigue than pitch clocks?
The NBA is, like most sports, dogged by a regular season that lasts an ice age and is as interesting as the fossils that emanate from it. But unlike the others, the NBA doesn't wait for the regular season to end; it stays in perpetual trade deadline mode, resting only during the playoffs to protect the notion that basketball is occasionally an end in and of itself. As a result, then people who cover the sport spit-spray endlessly about who might be going where eventually and why this is news so vital that it su