Good morning, I'm Tim Walker with today's headlines. If you'd like to receive this briefing by email, sign up here.

Top story: Trump says audio of Khashoggi death 'probably' exists
The US has asked Turkey for a copy of the audio recording that reportedly captures journalist Jamal Khashoggi's torture and murder inside the Saudi consulate in Istanbul. Donald Trump told reporters on Wednesday that the tape "probably" exists, a day after he had defended the Saudi regime, with whom he has developed close personal ties. The suspects in the killing include several members of the Saudi crown prince Mohammed bin Salman's entourage.
– Last words. The Washington Post has published Khashoggi's final column, in which he criticised Arab governments, including Saudi Arabia's, for cracking down on the media.
– Scandal grows. The US secretary of state, Mike Pompeo, made a two-day visit to Saudi Arabia and Turkey in an apparent effort to contain the Khashoggi scandal. That plan backfired.
Russian formed US company before Trump Tower meeting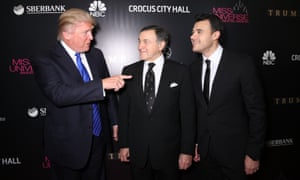 Aras Agalarov, the Russian billionaire who orchestrated a now-infamous 2016 meeting with representatives of the Trump presidential campaign, anonymously created an American shell company one month beforehand while preparing to move almost $20m into the US. The meeting at Trump Tower, hosted by Donald Trump Jr, was allegedly organised to discuss damaging information on Hillary Clinton that had been obtained by the Kremlin. It is now a focus of Robert Mueller's Russia inquiry.
– Election meddling. Mueller is also examining unusual financial activity, including whether any of Agalarov's $20m might have been used to fund Russian meddling in the 2016 election, which Agalarov denies.
Canada celebrates legalisation of recreational cannabis
Shortly after midnight on Wednesday in St John's, Newfoundland, Ian Power became the first person to purchase recreational marijuana legally in Canada since 1923, when the drug was first prohibited. Supporters and sceptics are waiting to assess the success of complex new laws under which Canada has become only the second country in the modern era to legalise the sale of cannabis for recreational purposes.
– Test case. Uruguay legalised cannabis in 2013 and sells marijuana through its ministry of public health. The move has not led to any increase in addiction, though the black market in the drug continues to thrive alongside legitimate sales.
Potato cutlery and tiny turbines on Dyson award shortlist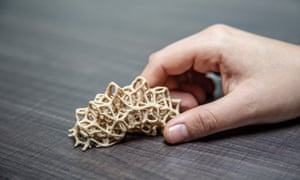 A robotic cleaner for combating pollution in lakes and rivers, a prefabricated ant nest, cutlery made from potato peelings and a miniature wind turbine that could help power city apartments: these are just a selection of the 20 designs shortlisted for the annual James Dyson award.
– Urban ambitions. The designs were selected from a longlist of 81 national winners and finalists, and share the common aim of using technology to make urban living more sustainable.
Crib sheet
– Weapons of war have been used to kill and injure anti-government protesters in Nicaragua during recent demonstrations in which more than 300 people have died, according to an Amnesty International investigation.
– Many of Japan's famous cherry trees are blossoming months ahead of schedule, probably as a result of unusually warm weather following two powerful recent typhoons.
– Scientists are conducting a study of the hibernation habits of North American bats in an effort to halt the spread of white noise syndrome, a fungus that has killed millions of bats in the US and Canada.
– Half of all beginner guitarists in the US and UK are girls, a study has found, suggesting the so-called Taylor Swift effect has persisted despite Swift herself moving away from guitar music.
Must-reads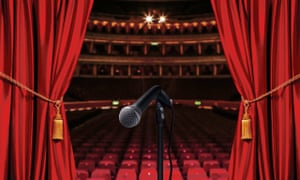 Performance anxiety: the truth behind a modern malaise
According to a recent study, 50% of British men in their 30s say they struggle to get or maintain an erection. But is there really an epidemic of erectile dysfunction or are men just more anxious about their sexual performance? Sirin Kale investigates.
How Ice keeps America's immigrants living 'in fear'
The Immigration and Customs Enforcement agency (Ice) will be a big issue at the ballot box this November. Many immigrants now "live in fear" of its agents turning up at their homes or workplaces, but in Philadelphia an immigrant rights group is teaching people how to respond if Ice comes knocking. Amanda Holpuch reports.
One man's (very polite) fight against media Islamophobia
Miqdaad Versi has made it his mission to personall
![endif]-->!--[if>![endif]-->!--[if>