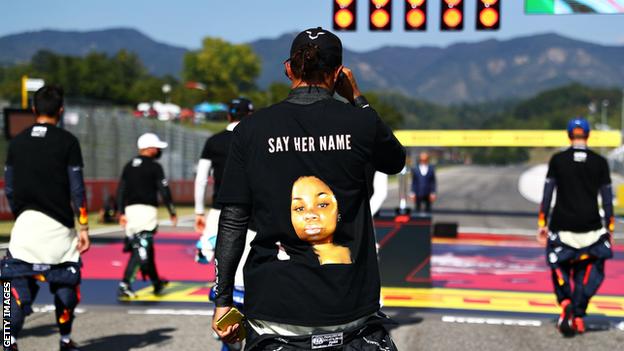 Sport stars including LeBron James, Lewis Hamilton, Megan Rapinoe and Colin Kaepernick have expressed their disappointment at a decision not to charge any police officers with the killing of Breonna Taylor.
Taylor, a black woman, was shot multiple times as officers stormed her home in Louisville, Kentucky, on 13 March.
Two white officers have not been charged while a third, also white, was charged with endangering 26-year-old Taylor's neighbours.
Athletes around the world have added their voices to the public outcry surrounding Taylor's death and the grand jury's decision.
Kentucky Attorney General Mr Cameron held a news conference to explain the decision, saying: "This is a gut-wrenching emotional case.
"Each [case] is unique and cannot be compared," Cameron said: "There will be celebrities, influencers, and activists who having never lived in Kentucky, will try to tell us how to feel, suggesting they understand the facts of this case and that they know our community and the commonwealth better than we do. But they don't."
What sports stars have said