Scott Dann politely turns down the offer of a lab coat and, with a brief shake of the head, makes clear he wants nothing to do with the proposed pair of goggles either. All of which reinforces the sense that a laboratory on Imperial University's White City campus is an incongruous venue at which to find a Premier League footballer tantalisingly close to his return from long-term injury.
Yet to the lab technicians at Polymateria, diligently developing a new standard in biodegradable and compostable plastics to help combat global pollution, the visitor is not a seasoned centre-half. Rather, he is a shareholder, one of those investors who helped make all this possible. For Dann, too, this is an unconventional relationship with benefits.
"I'd go in to the training ground at Crystal Palace every day and work hard on my rehabilitation, hitting my targets, staying on track," he says. "But away from there it was about focusing on something else unconnected with football. So, when I was not with my family, I'd concentrate on finding startup investment projects like this. It was always something I'd wanted to do.
"I've tried to be sensible and put something aside, planning for the future, but when you suffer a bad injury it brings home how short this career could be. But it also gave me that distraction. Not once did I ever feel down or frustrated. I was never bored, wondering what to do with myself. And, by being able to switch off from football, I swear it helped in the recovery from the injury."
To recap, Dann had bodychecked Kevin De Bruyne just after the quarter-hour mark of Palace's meeting with Manchester City, at Selhurst Park last New Year's Eve. The Belgian, floored by the foul, had landed on the centre-back's right leg. Dann "felt something snap" and knew instantly his season was over.
He would retire on a stretcher, the referee, Jon Moss, ushering him on his way with a yellow card, as the initial protective adrenaline rush gave way to excruciating pain. He still managed a wave up to his wife and young son, watching from the stands. "Seeing my family helped put things into perspective," he says. "Yes, I love football, and I didn't want to be out injured. But it hit home that whatever happened, I'd be OK."
It would be a fortnight before the swelling receded sufficiently for him to undergo an operation, the incisions made to repair the cruciate ligament and meniscus on either side of his right knee leaving ugly scars. "My son, who was two at the time, saw the marks and asked if I'd been bitten by a shark. I went along with it obviously. Jaws sounded a lot more dramatic. But now he's told at least 100 people his dad was bit."
Life was spent on crutches and in a brace, assisting his wife in trying to control an imaginative toddler and his nine-month-old sister.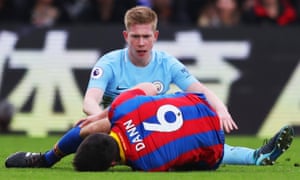 Palace hired a driver to pick up Dann from his home in Surrey, collecting his teammate Jason Puncheon – who had suffered his own knee injury when fouling De Bruyne in stoppage time in the same 0‑0 draw with City – a few junctions
!--[if>