Thousands of Georgia voters waited for up to seven hours in lines that stretched blocks during the state's primary election on Tuesday, and many left before voting.
The state's new voting machines did not work, because of either mechanical failure or poor training of poll workers. Many voters came to wait in line after failing to receive absentee ballots they requested to avoid the in-person threat of coronavirus. And many voters left the lines without having cast their ballots.
The worst problems were concentrated in counties and localities with higher Black populations.
Even for a state marred by a recent history of malice and incompetence in its administration of elections, Tuesday's election was a calamity. It was neither free nor fair, critics said.
The election drew national attention as former Democratic presidential candidate Hillary Clinton tweeted that Georgia's failure was "voter suppression."
"Many Republicans don't want certain people to vote," former Attorney General Eric Holder tweeted. And L.A. Lakers star LeBron James asked whether it revealed "structurally racist" barriers to voting.
"Yesterday was completely avoidable," said Nse Ufot, executive director for the New Georgia Project. "It was a direct attack on our democracy."
"Maybe the Carter Center should send monitors to monitor Georgia elections," said Jerry Gonzalez, executive director of Georgia Association of Latino Elected Officials, referencing the organization founded by former President Jimmy Carter that monitors foreign elections.
President Donald Trump and former Vice President Joe Biden are expected to be competitive in Georgia in the general election. The state is also in the rare position of holding races to fill two U.S. Senate seats, either one of which could decide which party holds the balance of power in that body.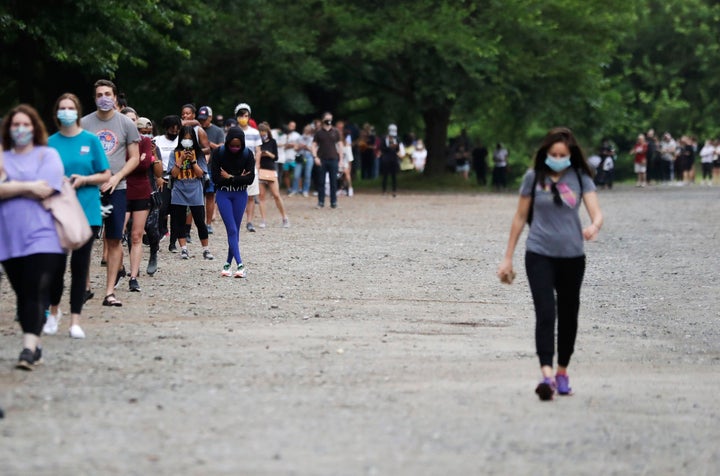 If the problems revealed on Tuesday recur on Nov. 3, it could throw the entire country into chaos.
The state's primary election was one of many across the country that have revealed the challenges of holding elections during a viral pandemic, which may remain an obstacle for the November general election.
As have many other states, Georgia consolidated polling places and urged voters to request an absentee ballot. Secretary of State Brad Raffensperger even sent absentee ballot applications to all active voters. 
An unprecedented 1.5 million Georgians requested absentee ballots. But thousands did not receive their ballots or had other problems and instead went in person to the limited number of open polling sites. 
And Georgia experienced problems that other states have not while trying to adjust to the effects of the pandemic. At some polling sites, voting machines had not even been delivered by the time the polls were supposed to open. At others, unprepared poll workers could not turn them on. And there were too few provisional ballots for voters who suddenly learned their names had been purged from the rolls. Others discovered that they were no longer listed as U.S. citizens.
Georgia's absentee ballot problem